Difference between revisions of "Solaris"
 

(3 intermediate revisions by the same user not shown)
Line 3:
Line 3:
 
 
 

[[File:Solaris_Home_AS7.jpg | border | 1000px]]

 

[[File:Solaris_Home_AS7.jpg | border | 1000px]]

 
+
 
+
 
+
 
+
 
+
 
+
 
+
 
+
 
+
 
+
 
+
 
+
 
+
 
+
 
+
 
+
 
+
 
+
 
+
 
+
 
+
---
Latest revision as of 05:18, 27 October 2018
This page describes the Solaris 7 interface. See Solaris 7 for more information about the game mode.
1. Solaris Ranking - Your statistics in the Solaris division of you currently selected 'Mech.
2. Solaris Top Menu - Mech Lab and Store are the same as the Mech Bay. Divisions let you see your performance in each Solaris division, select your Patron and manage Sponsors. Leaderboards displays the Solaris Leaderboards, which allows filtering by solo, group and division.
3. Match Information - Match kick-off timer, number of players in queue (all divisions) and a drop menu server region selector.
4. Division 'Mechs - Selected 'Mechs in every Solaris division, and supply cache progress in the division of the currently shown 'Mech.
5. Icons - Take your current 'Mech to a Solaris testing ground, learn more about Solaris 7 and walk around your 'Mech in first-person view.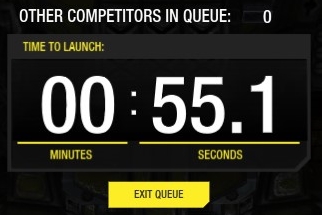 When you hit Launch the count down timer appears, showing you how long until Solaris MM matches everyone in queue according to their SSR.
Player Card
Select your name in the top left of the Solaris Home screen or on the Leaderboard to go to your Player Card, which displays the 'Mech you last played in that division and it's specifics. Your Player Card is public information - anyone can see it by selecting your name in the Leaderboard.