Store
The Store is where you go to buy 'Mechs, 'Mech Bays, in-game boosters and consumables. The stores uses a cart system; add items to the cart and purchase them all when you are ready. The cart supports a mix of MC and C-Bills.
Any 'Mech purchases will be in its default, "stock", configuration. The exception are Champion versions of 'Mechs.
Bundles
Exchange MC for C-Bills, or buy a 'Mech bundle. 'Mech bundles include three 'Mech variants of the same chassis, three 'Mech bays, premium time and some include cockpit items.
Battlemechs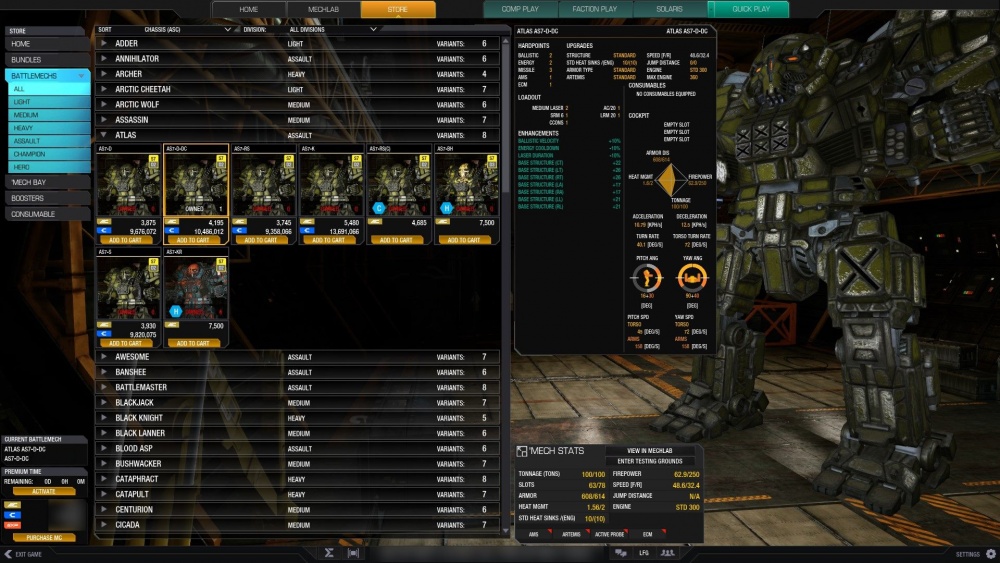 Buy individual 'Mechs. The listing can be sorted by chassis or class, and the 'Mechs displayed subdivided by class, Champion or Hero. The listing can be filtered by Solaris division. If you are buying several of the same chassis you may save MC/C-Bills if you purchase via a Bundle.
'Mech Bay
Buy a 'Mech Bay, which allows you to store more 'Mechs.
Boosters
Buy premium time, which increases your XP and C-Bills by 50% for every match. Purchase from 1 day to 1 year.
Consumable
Buy consumables using MC or C-Bills. Same price as if you bought them via the MechLab.